Web Copy and Messaging Framework
From web copy to messaging framework, blog posts, and white papers, here's a collection of projects that I've had the pleasure of working on.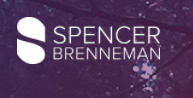 Even messaging experts sometimes need messaging upgrades. When Spencer Brenneman decided to "help those who help us all," the team and I reframed the brand's focus to remastered its messaging. Company president Douglas Spencer and I updated the brand's verbal identity, then I crafted their new web copy.
Pride in Our Workplace amplifies LGBTQ+ voices to drive positive change. The messaging experts at Spencer Brenneman and I teamed up to help this nonprofit make the business case for diversity with a verbal identity upgrade. I also wrote their new copy.

When I first met Dr. Steve Zivich, he was a one-man show who specialized in functional medicine and believed in the direct primary care model. I helped craft his verbal identity, wrote his web copy, and regularly write for his blog. In the three years since, Boston Direct Health's staff has grown to from one to six.

Shared HR Services specializes in a la carte services, and their web copy needed to reflect that. After a couple calls with Lynette Hatscher, the Founder and CEO, we identified Shared HR Services' key differentiators and put them front and center.

Massachusetts Children's Alliance is the most promising, leading-edge organization in helping victims of child abuse. They serve thousands of children every year, and the work they do is echoed throughout the rest of the United States. Douglas Spencer and I updated their verbal identity, and while it's still being updated, I rewrote their web copy as well.
This one-page site packs a powerful punch by offering nonprofit fundraising strategies to create transformational change. I wrote their web copy, and I'm also working on a blog series about virtual fundraising to help nonprofits acclimate to the new normal.
Here's a small sample of the 100s of blogs I've written for clients over the last few years.
Not finding what you're looking for? I have plenty of additional posts available upon request.
Thus far in my career I've written content for physicians that specialize in direct primary care and functional medicine. I've also written a blog series on sexual health and regularly work with naturopaths, chiropractors, personal trainers, acupuncturists, and CBD purveyors.
Digital marketing is a huge passion of mine and I pretty much always jump at the opportunity to work with marketers, as long as it's a good fit. Here are a few posts I've written for my digital marketing clients, both past and present.
Real estate is a competitive industry. I've written a content package around first-time home buyers, as well as multiple posts about mortgages and loans, real estate investments, home-buying and selling guidebooks, and more.
This section is more miscellaneous than anything. I've written multiple content packages about various aspects of lifestyle, including a few samples about life insurance that you see below.