In Hiring a Content Writer, I mentioned that having a business blog multiplies your chances of a positive ROI by 13. Businesses that blog also receive 55% more web traffic than those that don't, and having a blog on your site increases your chance of ranking higher in search by 434%.
If that's not enough to interest you in starting or updating your business blog, these 7 reasons should…
Build Better Brand Connections
People do business with people they like, know, and trust.
Customers aren't just purchasing your product or service, they're making an investment in you. The better your customers get to know you, the more they can trust you. That trust is invaluable! 
According to Marketing Charts, 82% of US consumers continue to buy from brands they trust, even if another brand becomes more trendy. 75% will continue to do so even if a competitor gets better reviews. 
Let's say you're at the store to buy toothpaste. Crest "Whitening" costs $3.99, while a brand you don't recognize is also highlighting that their product can whiten teeth costs $3.49. Which product are you more likely to buy? If you're like 63% of Americans, you will buy Crest even though it costs more because it's a brand that you know and trust. 
If you look around your home right now, you can probably spot dozens of products you bought despite there being a cheaper option for the same reason.
Establish Yourself as a Thought Leader
High-quality content builds trust. 
It's one thing for Nikki, a handbag designer, to post about her new product line. If she writes about how Alexander McQueen's Dante collection inspired her product line and explains why and how her process came to life, that's pretty cool. Her target audience will respect her ability to recognize her inspiration and the meaning behind it. Also, she'll probably sell more handbags. 
By creating quality content, you can convey:
More information about you and your brand

Where you fit into your industry

Your personal take on your industry

Your inspirations

Who your target audience is 
And, of course, you can build trust with your audience. Trust is everything. 
Here's an extra bonus for being a thought leader: other brands may also look at you as a source of inspiration. If your content engages your audience, you'll start a conversation, build a rapport, and generate more leads. 
Stand Out
There are over 600 million blogs, and 77.8 million new blog posts are being published each month. 
It's easy to start a blog. Maintaining one is another story, and it's much harder than you think. If you maintain a successful blog, you'll have a competitive advantage over every company in your industry that doesn't. Would you feel more confident in a company with a blog collecting dust, or is active, fresh, and engaging?
Companies with blogs receive 97% more links to their website. More links = more traffic = more leads. 
Speaking on traffic and leads…
Boost Your SEO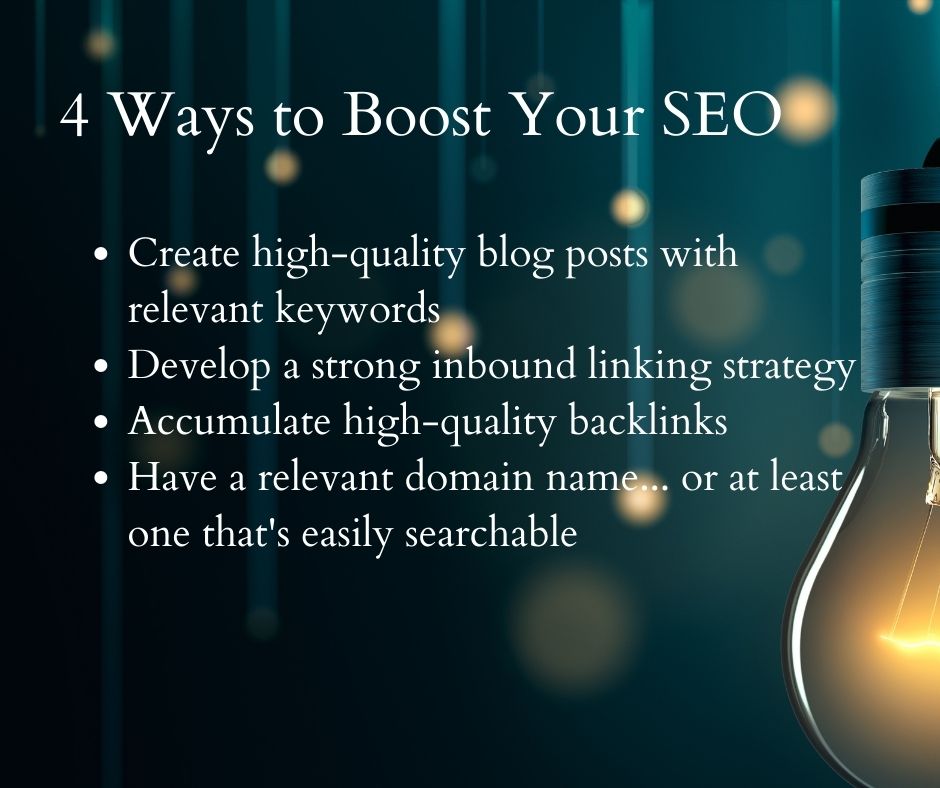 Search engines love new content. Having a high-quality, relevant blog that's regularly updated will boost your organic ranking, making it easier for your target audience to find you. More importantly, they'll find you before your competitors who aren't developing consistent new content.
More Shareable Content
One of the coolest things about content is its versatility. From a single blog post, you can:
Grab a quote and use it as a hook for a social media post 

Take a featured image in your post and put it on social media with a back link to the blog

Create a video script and make a short video to post on YouTube

Write a 'Twitter short' hook with a link to your content and relevant hashtags

Create an Instagram Story about your post with relevant hashtags

Create a podcast discussing the material 

Develop a linking strategy for a blog or web series

Turn it into a chapter for an ebook

Repost the blog at a later, relevant time and retarget your audience
The more content you have, the more opportunities you have to engage your audience. 
Highlight Your Products/Services
A blog series highlighting your product or service can always come in handy. 
Nikki can post a short-form article that highlights each of her Dante inspired. She can then also suggest other products that her customers might enjoy, and sprinkle a few links to similar products in her posts. Her audience might be four or five articles deep before they realize they've spent 20 minutes exploring her site! 
You can also treat your blog as a FAQs guide told in story form. For example, FreshBooks has a "product news" section of their blog that highlights how to use various aspects of their software. They also have multiple content buckets based on the needs of their audience. 
There are many ways to approach your blog. Talk with a content writer about what they think might work best for you!
Your Business Blog is
Yours
Nikki might have profiles on Instagram, Facebook, YouTube, Pinterest, Twitter, Etsy, Amazon, and LinkedIn, but they don't belong to her. 
Businesses violate content rules and get their accounts suspended or deleted for these platforms all the time. It probably happens more often than you think, and it can really hurt a brand when it does. 
If your business has a blog, you have your own channel to publish your content on. If you've collected a healthy list of subscribers, you'll be in good shape while rebuilding your social profiles. 
Final Thoughts 
A well-planned blog and content strategy can take your business to the next level. It offers your business a huge opportunity to build trust with your brand's followers, increase traffic to your site, and gives you the authority you deserve as a thought leader in your industry. You can learn more about building a blog series here, or contact me for a free, no pressure chat!